Corporate Member Community Support
The Armory supports small and local businesses and the important work they are doing to continue serving the community, amidst difficult circumstances.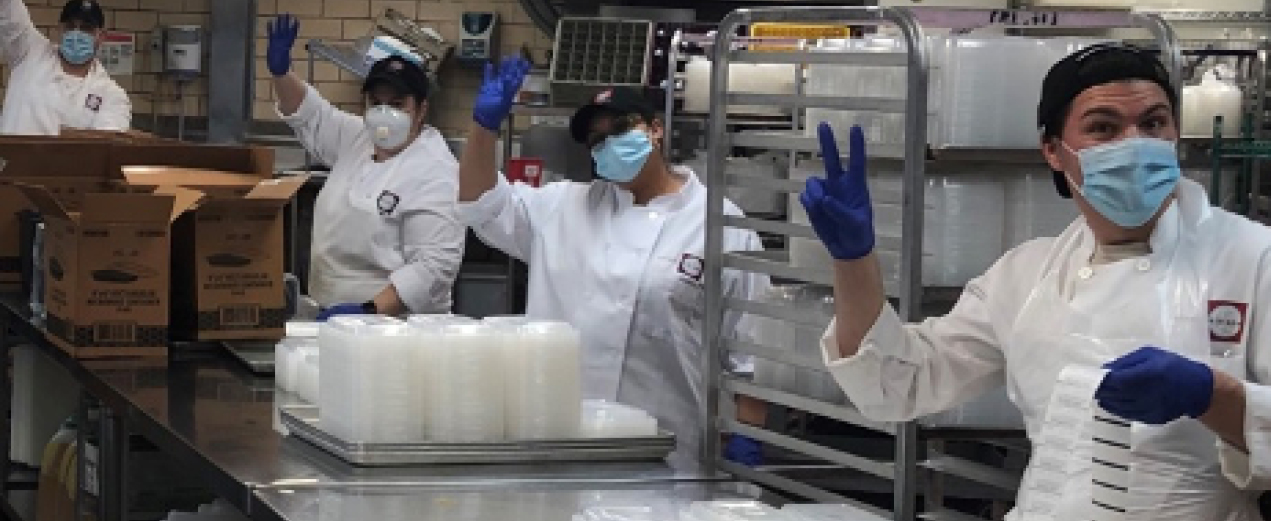 Helping Frontline Workers
Abigail Kirsch | Abigail Kirsch delivered over 4,000 meals on Sundays to The Cathedral of St. John the Divine, which are distributed through their Sunday Soup Kitchen program. They also prepared over 30,000 meals in partnership with their sister company, Preferred Meals, which were distributed to the food insecure within the greater NYC community.
Great Performances | On March 24, Great Performances began delivering meals to 8,000 housebound elderly across the city. In April and May, Great Performances prepared over 100,000 meals for frontline hospital workers and made deliveries through the Fresh Meal Fund with The Sylvia Center to over 20 local public and private hospitals, bringing fresh, delicious, healthy meals to overworked staff. Additionally, in conjunction with State Assemblywoman Nathalia Fernandez of the 80th District, Great Performances is supporting food delivery efforts in 3 NYCHA community buildings, and is making 100 boxed meals daily for their South Bronx community partners led by Rap 4 Bronx.
Tastings NYC | Tastings 2.0 will donate 20% of its virtual dinners through its new initiative Tastings 2.0 Virtual Catering & Events to City Harvest SKIP LUNCH FIGHT HUNGER, which provides meals for kids on school breaks that would not receive school provided meals. This partnership has been expanded during the Coronavirus Pandemic to provide daily nourishing and balanced meals to children around NYC. Tastings 2.0 Virtual Catering & Events organizes tailored, virtual events with meals and cocktails that can happen simultaneously in New York City, the Hamptons and Miami. They are also offering experiences that can be sent to your home as an "Event in a Box"; such as Cocktail Parties, Dinner and Champagne, Whiskey, and Chocolate tastings, and more. Tastings NYC is also currently offering at-home delivery services to New York City and outside community at tastingsnyc.com with delicious weekly menu items ranging from breakfast and brunch to lunch, dinner, and more! Armory Members who book a Weekly Menu Subscription for a minimum of four guests will receive a 10-person cocktail party in the privacy of their own home!
Union Square Events | Along other Union Square Hospitality Group restaurants, Union Square Events has partnered with rethink food since July to produce fresh and healthy meals to Community Based Organizations, such as Rap4Bronx. Union Square Events has provided over 78,000 meals so far, and continues to provide daily meals.
In addition to providing offering full-service catering for small events with the highest safety standards, Union Square Events is delivering and shipping meals and kits for virtual events, executing virtual cocktail and cooking classes, and executing drop-off catering to offices throughout NYC.
Planning your Thanksgiving? They are offering delivery of your Thanksgiving (or Friendsgiving!) feast, including wine, cocktails, décor, table settings, and more. Order HERE by Monday, November 23. Menus are fully customizable and feature classics like Creamy Mashed Potatoes and Brussels Sprouts alongside reimagined seasonal fare like Smoked Ricotta Gnocchi with Kabocha Squash, Brown Butter and Sage, delivered to your home in New York City, Hoboken, or Jersey City. With every Thanksgiving order, we are making a donation to the Robin Hood Foundation, our longtime partners who support vulnerable New Yorkers.
Current Neighborhood Offerings
Canard Inc. | Canard Inc. is excited to introduce the Reclaim Your Weekend At Home Cocktail Party, offering a "Cocktail Party at Home" menu with pre-batched cocktails. The Menu is Al la Carte and clients are able to select their own flavor. This package also features the Weekend Feast, a BBQ Feast for 4 people. Currently delivering to New Jersey, Brooklyn, Queens, Manhattan and Long Island… including the Hamptons! To learn more and place an order, please click here. Follow on Instagram: @canardinc. Canard Inc. is also pleased to offer the Reimagine Your Office Opening package, a curated meal box with cocktails/wine and more for gifts and virtual galas. This includes a daily curated breakfast/lunch menu with drop-off service. For more information about curated experiences, please email Ryan Maerz, Partner at Canard Inc. To view the weekly menu for delivery, click here.
Match65 | Match65 is currently open for indoor and outdoor dining (according to NYC guidelines and requirements). They are also offering curbside/in-store pick-up and delivery. Orders can be placed at match65.com, by phone (212) 737-4400), or via Grubhub and Caviar. Also offering wine, beers and cocktails. Armory patrons who order on match65.com will receive a 5% discount and free mini chocolate chip cookies. Gift cards are available for purchase at match65.com. Match65 has donated 150 meals to 15 CVS locations in Manhattan to thank local Pharmacists.