"…at first amazes and then glides into the mystical…
It was jaw-dropping."
—The New York Times
Characterized by pausing, snapping, gliding, bone breaking, hat tricks, animation, and contortion, flex is a form of street dance that has evolved from the Jamaican bruk-up found in dance halls and reggae clubs in Brooklyn. This electrifying phenomenon is showcased at the Armory in a new project that confronts issues of social injustice, with the dancers exploring personal narratives through their own unique movement vocabulary in post-modern dance.
Created in the era of unrest following rulings on Michael Brown in Ferguson, Missouri, and Eric Garner in New York City, this powerful new work is staged by visionary director Peter Sellars and flex pioneer Reggie (Regg Roc) Gray in collaboration with a crew of 21 flex dancers from the very neighborhoods where the movement first took shape. Performing both as individuals and in groups to choreography created by the ensemble itself, the dancers utilize their breathtakingly beautiful movement to tell deeply human and sometimes heart-wrenching stories that address these troubling issues of our time.
FLEXN CONVERSATIONS: RACE AND THE CITY
Join us prior to performances for free public conversations with young people, public figures, educators, and community leaders. They will discuss some of the most pressing issues explored in FLEXN, including making neighborhoods safe for play, solitary confinement, "broken windows" policies, and reforming the juvenile justice system. Conversations begin one hour prior to the performance


CAST AND CREW
A Collaboration of Reggie (Regg Roc) Gray, Peter Sellars, and Members of the Flex Community
Lighting Sculpture & Lighting Design: Ben Zamora
Sound Design: Garth MacAleavey
Costume Design: Gabriel Berry
Music: Epic B
Performers: Ace (Franklin Dawes), Android (Martina Lauture), Banks (James Davis), Brixx (Sean Douglas), Cal (Calvin Hunt), Deidra (Deidra Braz), Dre Don (Andre Redman), Droid (Rafael Burgos), Droopz (Jerrod Ulysse), Karnage (Quamaine Daniels), Klassic (Joseph Carella), Nicc Fatal (Nicholas Barbot), Nyte (Ayinde Hart), Pumpkin (Sabrina Rivera), Sam I Am (Sam Estavien), Scorp (Dwight Waugh), Shellz (Shelby Felton), Slicc (Derick Murreld), Tyme (Glendon Charles) Vypa (Khio Duncan), YG (Richard Hudson)
Commissioned by Park Avenue Armory
Photo: Stephanie Berger

Support for this production has been provided by the Stavros Niarchos Foundation.

This production is supported in part by public funds from the New York City Department of Cultural Affairs in partnership with the City Council and by the New York State Council on the Arts with the support of Governor Andrew Cuomo and the New York State Legislature.
WATCH PRODUCTION-RELATED VIDEOS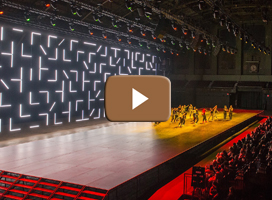 March 25—April 4, 2015
Wednesday–Saturday at 8:00pm
Sunday at 3:00pm
This performance is approximately ninety-minutes in length, with no intermission.
Subscribe now and save up to 20%
Be the first to know about ticket sales and Armory Events by joining our Mailing List.
2015 Season Sponsors: