"How many times have you cried in your life? How much fluid have you given to the world? Every day, every week, every month… A field of water.
A field is endless – it goes on, and on, and on, and on. And as the water collects, the space it inhabits will never be the same again." —Douglas Gordon
Art, music, and architecture converge in the latest work by Turner Prize-winning artist Douglas Gordon and acclaimed pianist Hélène Grimaud. This site-specific installation features an immense field of water that harnesses light, reflection, music, and sound to amplify and transform the Wade Thompson Drill Hall, encouraging viewers to acknowledge their surroundings and reexamine one of the most historic spaces in New York.
For ten nights only, Grimaud will perform a program of water-themed works by Debussy, Ravel, Liszt, and others within the space, creating a confluence of live music and visual art that allows audiences to experience this celebrated music in a refreshingly new way. The large-scale installation will also be open to the public during the day, offering viewers a more meditative and reflective experience, with a player piano silently performing as both an evocation of the previous night's recital and a premonition of performances to come.
The result is a genre-defying, deeply moving experience, which not only turns the Armory's iconic architecture quite literally upside down, but turns on its head the traditional concert-going experience for audiences while redefining the creative practice of one of the most prominent visual artists of his generation.
360° TOUR
Missed the installation? Click here to view a 360° tour.
ARMORY AFTER HOURS
Join us for libations, when we set up a special bar in one of our historical period rooms, on Thursday evenings (December 11 & 18) when the installation will be open until 8:00pm and following performances (December 9—21).
ARTIST TALK
Wednesday, December 10 at 6:00pm. A discussion with Douglas Gordon and Hélène Grimaud, moderated by Alex Poots, Park Avenue Armory Artistic Director.
FAMILY DAY
Saturday, December 13, 10am–12pm. Suggested Ages: Children ages 6-12.
Commissioned by Park Avenue Armory
Photo: James Ewing

Support for tears become… streams become… has been generously provided by Ken Kuchin and Tyler Morgan and by Arup, the British Council, the Grand Marnier Foundation, and the Robert Lehman Foundation. This production is supported by public funds from the National Endowment for the Arts and the New York City Department of Cultural Affairs in partnership with the City Council.
tears become… streams become… is also made possible by the New York State Council on the Arts with the support of Governor Andrew Cuomo and the New York State Legislature.
WATCH PRODUCTION-RELATED VIDEOS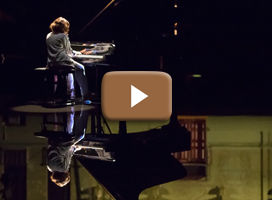 INSTALLATION
Armory members receive free admission throughout the installation. Simply show your membership card at the desk upon arrival.
December 11–January 4
Tuesday–Wednesday: 12:00pm–6:00pm
Thursday: 12:00pm–8:00pm
Friday–Saturday: 12:00pm–6:00pm
Sunday: 11:00am–5:00pm
PERFORMANCES
December 9–21
Tuesday–Wednesday at 8:00pm
Friday–Saturday at 8:00pm
Sunday at 7:00pm
Other ways to buy:
Phone M-F 10am - 6pm (212) 933-5812