"Jaw-dropping … [with] breathtaking physical feats and visual dazzle."
—The New York Times
Visual art, electro-pop, and contemporary dance intersect in an illuminating new work directed by award-winning choreographer Wayne McGregor, artist Olafur Eliasson, and producer/composer Jamie xx. Performed by fifteen soloists and dancers from the Paris Opera Ballet and Company Wayne McGregor, this new type of modern dance layers classical and contemporary styles with visual wizardry and sonic imagination in this highly-anticipated U.S. premiere.

This new evening-length work takes as its starting point Jonathan Safran Foer's enigmatic publication, at once a novel and a piece of art created by making incisions into the pages of The Street of Crocodiles by Bruno Schulz. Utilizing Foer's merging of genres and sculptural techniques, the piece features a site-specific environment that reinvents the performance space with a shape-shifting kaleidoscope of light, color, and reflective mirrors that challenges preconceived notions of the role of the viewer from the moment they enter the drill hall.
U.S. PREMIERE
Director and Choreographer: Wayne McGregor
Visual Concept: Olafur Eliasson
Composer: Jamie XX
Inspired by Tree of Codes by Jonathan Safran Foer

Paris Opera Ballet
Marie-Agnès Gillot, Jérémie Bélingard, Julien Meyzindi, Sébastien Bertaud, Lydie Vareilhes, Lucie Fenwick

Company Wayne McGregor
Catarina Carvalho, Travis Clausen-Knight, Alvaro Dule, Louis McMiller, Daniela Neugebauer, Anna Nowak, James Pett, Fukiko Takase, Jessica Wright
Photo: Ravi Deepres

Commissioned by Park Avenue Armory, Manchester International Festival, FAENA Art, Paris Opera Ballet, and Sadler's Wells.
Support for this production has been provided by the Stavros Niarchos Foundation, and by the British Council. This production is supported in part by public funds from the New York City Department of Cultural Affairs in partnership with the City Council.
September 14–21, 2015
Monday: 8:00pm
Tuesday: 7:00pm
Thursday–Friday: 8:00pm
Saturday: 2:00pm & 8:00pm
Wade Thompson Drill Hall
Tickets start at $30
WATCH PRODUCTION-RELATED VIDEOS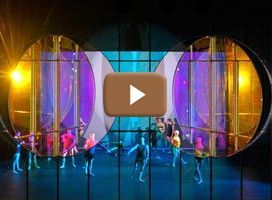 ARMORY AFTER HOURS
Join us for libations at a special bar in the Board of Officers Room until 11:00pm

Other ways to buy:
Phone M-F 10am - 6pm (212) 933-5812
Be the first to know about ticket sales and Armory Events by joining our Mailing List.
2015 Season Sponsors: