Location
Park Avenue Armory is located at 643 Park Avenue between 66th and 67th Streets.
Assisted Access
For individuals requiring assisted access, a sidewalk-level entrance is available at 103 East 66th Street, located just east of Park Avenue. Patrons may ring the service bell when they arrive, or make arrangements prior to arrival by calling the main security desk at (212) 616-3950 extension 1.
Important Information Regarding Hansel & Gretel: June 7–August 6, 2017
Please be advised that the installation includes a sloping floor and may be difficult for some patrons to navigate. Please call the Box Office at (212) 933-5812 for more information.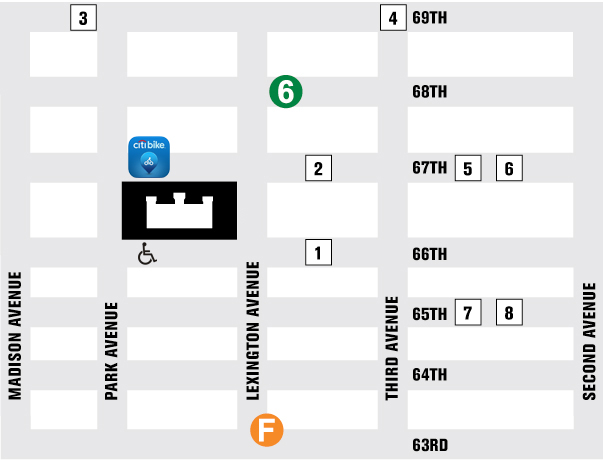 Local Supporters
The Carlyle, A Rosewood Hotel
35 East 76th Street, at Madison Avenue
Receive preferred rates for your stay when you book here or mention the Park Avenue Armory.
Gardens NYC, an Affinia Hotel
215 East 64th Street, at 3rd Avenue
Receive preferred rates of 15% off or more during your stay when you book here using the rate code ARMORY or by mentioning Park Avenue Armory when booking.
Bentley Hotel
500 East 62nd Street, at York Avenue
Save 10% on your stay when you book here or mention the Armory.
MATCH 65 BRASSERIE
29 East 65th Street (between Park and Madison Avenues)
Armory members receive 10% off total bill.*
Non-members receive a free bellini, rosé champagne, mimosa or fresh-squeezed juice with purchase of entrée.*
Fig & Olive
808 Lexington Ave (between 62nd & 63rd Streets)
Armory members receive 10% off total bill.*
Non members receive a complimentary piscine (champagne on ice with strawberries) with purchase of entrée.*
*Proof of membership or ticket stub is required for all above restaurant offers.
For more information on these discounts, contact Jennifer Smith at (212) 933-5808 or jsmith@armoryonpark.org.
Open Hours
The Armory is open to the general public during public hours of Armory Programming.
To schedule a tour of our magnificent historic spaces, please click here.
Transportation
TO GET HERE BY SUBWAY: You can reach Park Avenue Armory on the 6 train at 68th Street/Hunter College or the F train at 63rd Street/Lexington Avenue.
TO GET HERE BY BUS: You can take the M101, M102, or M103 (limited and local) to 68th Street and Lexington Avenue; M66 to Lexington Avenue and 67th Street (Westbound) or Madison Avenue and 68th Street (Eastbound).
TO GET HERE BY CITI BIKE: A Citi Bike docking station is located at the corner of 67th Street and Park Avenue.
Parking
The following parking garages are in the vicinity:
1

Manhattan Parking Group: 165 East 66th Street

2

Prime Parking Systems: 155 East 68th Street (Enter on 68th Street near Lexington)

3

GGMC Parking: 166 East 67th Street

4

Chelnik Parking: 700 Park Avenue (Enter on 69th Street)

5

69 East LLC Kingdom Parking: 200 East 69th Street

6

Central Parking System: 250 East 67th Street (Saturday evenings)

7

67th Street & Second Avenue Garage: 254 East 67th Street

8

200 East 65th Street

9

Kinney System, Inc.: 222 East 65th Street